Clarisonic Mia 2
Hi all, welcome back to my beauty blog. After lusting after the Clarisonic Mia for years and years I finally broke down and gave in and purchased a second hand Clarisonic Mia 2 fromwww.for-sale.co.uk. The great thing about the Clarisonic and the reason I was finally able to buy one after all the years is that all you need to do is buy a new removable brush for around 20 pounds and they're completely sanitised to use, so you can get some great deals for second hand ones online without sharing any germs!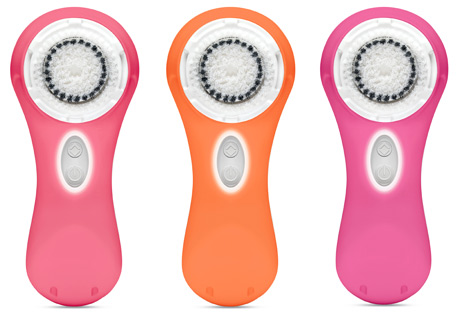 I first read about the Clarisonic facial cleansers about 8 years ago when the Clarisonic MD came out. It has a rather ambiguous reputation in that some people swear to it, cleaning up break outs and pores, and removing spots and blemishes, whilst others claim it irritates their skin far more than it helps and that rather than eliminating blemishes it causes irritations and their skin to break out.


What it does

The Clarisonic Mia helps to make your daily cleansing routine more thorough, it buffs your skin removing all the germs and dirt left behind every day. According to Clarisonic themselves it also is supposed to smooth out fine lines and wrinkles, minimise pores and generally improve your complexion due to the daily massage and increased circulation. Unlike other similar machines the Clarisonic Mia 2 has 2 speed settings, and although it isn't a harsh brushing motion it is most definitely firm enough to feel like you are really cleaning your skin. The machine has 'beeps' which tell you when you should be moving on to another section of your face.

What you get
The Clarisonic Mia 2 comes with a brush head, but, if like me, you're buying it second hand or if you just aren't a fan of the head it comes with there are many great different attachments you can buy.


Sensitive Brush head
According to Clarisonic: 'Balanced and versatile. Suitable for all skin types'
This is the brush to buy if you are starting out and you don't have any specific issues with your skin. It suits both normal and sensitive skin types.
Radiance brush head
According to Clarisonic: 'Unlock your brightest complexion'
This brush head helps to balance out your skin pigmentation by removing surface level issues and seburn. It helps with skin which has been affected by hyperpigmentation as well as skin which suffers from looking dull.
Alpha men's daily cleanse brush head
According to Clarisonic: 'Facial brush for men's resilient skin'
Engineered to help cleanse skin of sweat, dirt as well as oil, the Alpha men's brush head also works on men who have bears as it helps cleanse facial hair as well as the skin underneath. It has firmer, shorter bristles than other brushes as mens skin tends to be tougher and more resilient.
Smart profile dynamic brush head
According to Clarisonic: 'A deep but gentle cleanse'
If you have normal or combination skin which requires a slightly deeper cleanse than the sensitive brush then this is the one for you.
Deep pore cleansing brush head
According to Clarisonic: 'Refining, detoxifying cleanse for enlarged and clogged pores'
Better suited to those with enlarged pores the deep pore brush head moves 300 times per second which deeply cleanses and refine blocked pores.
Delicate brush head
According to Clarisonic: 'Extra gentle, for fragile and reactive skin'
For those with delicate, sensitive skin.
Cashmere Cleanse Brush head
According to Clarisonic: 'Hydrating, extremely soft, for extra dry skin with fine lines and wrinkles'
Softer than the other heads, the cashmere cleanse brush head works 6 times better than using your hands. This works great alongside the other products we discussed in our anti-ageing article.
And the Clarisonic is not just for your face, it works great on the rest of your body as well:
Velvet foam body brush head
According to Clarisonic: 'Tapered filaments for full body cleansing'
Perfect for mature skin and people with dry complexions. Works all over the body leaving skin feeling extra soft.
Turbo body brush head
According to Clarisonic: 'Turbo massage body brush head'
The turbo brush head works great on the rest of the body, it exfoliates dry and rough skin, great at massaging neck and shoulders as well.
You can also buy lots of the heads as great twin packs, which helps save money and makes it great if you wanted to share your Clarisonic Mia with friends or family. I love my Clarisonic Mia and definitely recommend it to all of you, its helped clear up my acne and bad skin and my boyfriend swear by it as well, he says there's nothing better than a beard scratch and thanks to the Clarisonic Mia his beard gets cleaned and he gets the mini face massage at the same time. However don't just take my word for it, there's lots of other great reviews with great pictures out there as well. Check out the XOJane Clarisonic review..